COLLEGE ACCESS ASSISTANCE
PSYCHO-EDUCATIONAL TESTING
* Please note that most of our services can be accessed ONLINE, as well as in-person either at your home, in one of our offices, or within your local community.
Pivot Point's Tutoring Service is dedicated to helping children learn in a fun way that is "outside the box ", or unconventional. So, unlike traditional tutoring approaches which rely on assembly line instruction, or focus exclusively on the academics, our approach is decidedly student centered. We work with each student's learning style to create fun and fast paced homework activities that inspire success, reward organization and self-initiative and optimize learning.
Getting a tutor is not just about helping your child improve their grades, it's about helping them see themselves as successful at school. Confidence is the key!
Struggling in school can impact every aspect of a child's life. Some impacts of academic challenges can include low self esteem, anxiety, and poor friendships and especially relationships at home. We work with elementary and secondary school students of all ages, grades, and levels of ability to help them find success; both in the classroom and in their lives.
Most sessions are 90 – 120 minutes long
Sessions occur in the student's home (their natural homework setting)
Sessions may also occur in our community offices, where they can work 1-1- or in small pods of 2, 3, 4 students working together
Tutoring can be focused on general "homework support" or on any number of different subjects
Tutoring services can be delivered seamlessly along with any other Pivot Point service.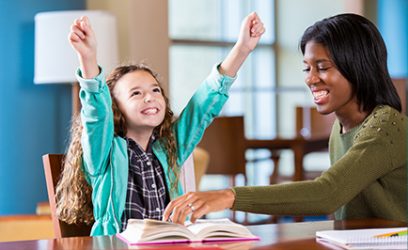 Either in-home or in our community offices, our dedicated staff are trained to support students with ASD, FASD, and other learning and behaviour challenges by working alongside each student to help them meet the learning outcomes of BC's Ministry of Education with adaptations or modifications where needed. Let's make learning FUN again!